STRONG MARKETING
FOR STRONG PARTNERS
We, the franchisor behind the PANDIIIA® light wellness system, are always on hand to offer you support and create the framework conditions for a successful collaboration. After all, your success is our success. As a franchisee, you also benefit from a strong brand. Our daily mission is to help you in any situation, find quick and easy solutions to any challenge, and create promising prospects for the future.
That is why we provide you with our comprehensive marketing concept and targeted marketing documentation. We help you successfully position, present and market LED light wellness with PANDIIIA® and our complementary product range. Here you will find an overview of all the marketing tools you can use to organise your point of sale, for online marketing and on your social media channels.
MARKETING BENEFITS
Uniform brand identity
Centralised marketing support
Innovative product concept
Attractive pricing: rent or buy
Coordinated business activities
Complementary range of accessories
Training courses and the transfer of expertise
Centralised service
MARKETING & DESIGN
DOWNLOAD AREAS FOR SOCIAL MEDIA, THE WEB AND CORPORATE DESIGN
POINT OF SALE DOCUMENTS AT A GLANCE
INFO MATERIALS AND BENEFITS FOR YOUR CUSTOMERS
PANDIIIA® Customer brochure including bonus card
Key information about the PANDIIIA® LED light wellness system, the complementary product range and the effects of our products – all the compelling arguments summarised. Includes a bonus card which your customers can use to obtain LED light wellness at a special price. 
PANDIIIA® Flyer for Recommendation
Recommendations from friends and relatives are one of the key factors that influence customers' purchasing and consumption decisions. Encourage this process and take advantage of it with our recommendation flyer. Perfect for inserting in the customer brochure.
PANDIIIA® Price List for Applications
Transparency and clarity in every respect. You will receive our price list together with our customer brochure. This gives your customers a detailed overview of the entire PANDIIIA® LED light wellness system including the associated prices.
PANDIIIA® Gift Voucher
Give the gift of pleasure! With the PANDIIIA® gift voucher, give your customers the perfect gift for friends and acquaintances. The value of the voucher can be selected as required at the time of issue. The recipient(s) can then choose what to spend the voucher on – relaxing PANDIIIA® minutes or our high quality product range.
PANDIIIA® Door Hanger
Hygiene is of the utmost importance to us and we take appropriate measures. Our PANDIIIA® door hanger informs your customers about the regular disinfection of the device thereby ensuring they feel comfortable during treatment.
PANDIIIA® Car Sticker
Our PANDIIIA® car stickers complete your repertoire of advertising materials. Whether on the windscreen, rear window or side window, the stickers are easy to apply, adhere well and raise awareness of the PANDIIIA® lifestyle while you are on the go.
USEFUL TIPS FOR YOUR POINT OF SALE DESIGN
Arrange and position advertising materials at your point of sale as effectively as possible. Find out how to increase visibility, generate interest and gain new customers in our tips for a successful point of sale design.
VISIBILITY FROM THE OUTSIDE IN
OUR ADVERTISING MATERIALS FOR YOUR POINT OF SALE
PANDIIIA® Beach Flag for Outdoor Area
Arouse interest, encourage existing customers and appeal to new customers. The PANDIIIA® beach flag attracts attention outside your business and generates interest and traffic on site for LED light wellness with PANDIIIA®.
Dimensions: 80.00 x 256.00 cm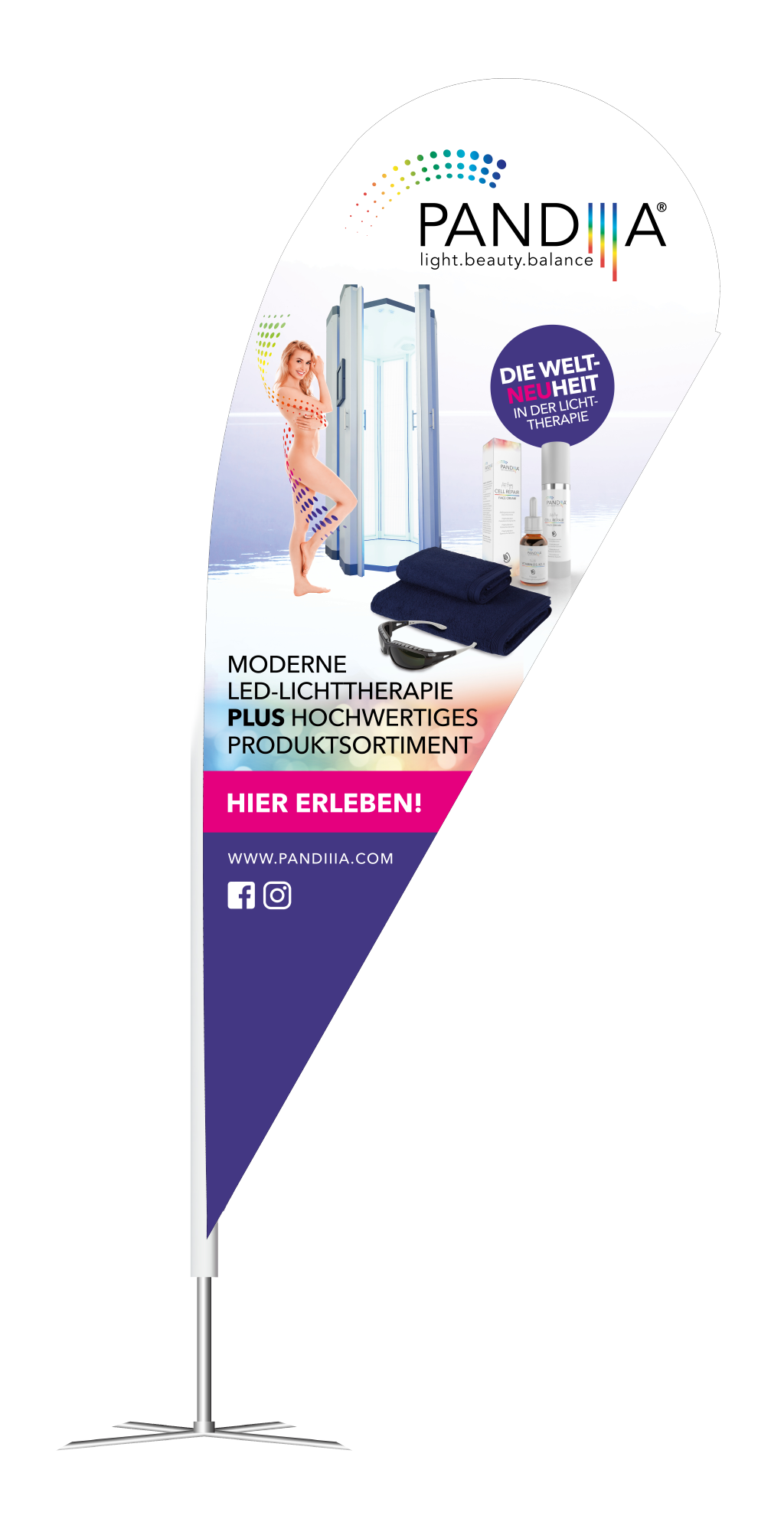 PANDIIIA® Poster for Outdoor Area
Stop existing and potential customers outside your business with the PANDIIIA® poster for the outdoor area. As a touchpoint at your point of sale, the poster addresses passing customers directly and tells them about your PANDIIIA® offering.
Dimensions: 59.40 x 84.50 cm
PANDIIIA® Roll-Up for Indoor Area
This classic eye-catcher for inside your business draws attention and arouses your customers' interest. A clear, unequivocal call to action invites them to experience LED light wellness with PANDIIIA® on site directly.
Dimensions: 100.00 x 240.00 cm
PANDIIIA® Display Case
The perfect way to showcase your PANDIIIA® products: Our PANDIIIA® display case is both attractive and practical. You can use it to skilfully highlight certain PANDIIIA® products and create an eye-catching display inside. The bottom section also provides storage for additional materials.
Similar to illustration
PANDIIIA® COUNTER DISPLAY
WITH COMPLEMENTARY PRODUCT RANGE
You can make additional revenue and profits through sales of our high quality product and accessory ranges. Our counter display is the perfect setting for these complementary PANDIIIA® products and ensures their prominent positioning within your point of sale. On the reverse of the PANDIIIA® counter display, you will find all the key information about the products on show so you can offer your customers the best possible advice.
Would you like to order PANDIIIA® advertising materials? Simply contact your PANDIIIA® expert using the adjacent form.